"You are truly inspiring and passionate about your work and it has been a privilege to encounter your unique and wonderful teaching style" –

Katrina, Sheffield
Update for Instructors – New PADI OW Course
Come along on Sunday the 11th January 2015 to refresh your teaching skills. This day is Open to All Whether you're an Instructor, AI, Divemaster, Divemaster Trainee.. or even a Rescue Diver who is interested in learning more on how to teach. Whoever you are,  you'll want to be more effective and more popular when you teach courses. You'll want to create more Independent and more Confident divers.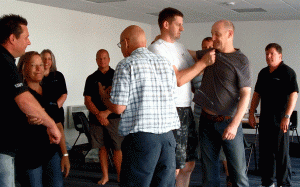 Come along to Update for Instructors – New PADI OW Course and join me to find out: – + Why you need to have a different approach with the New Open Water Course + How to Teach People! and not Courses! + Why you should STOP "Teaching" and instead "Allow people to learn!" + What is new in the Open Water Course In this New Update for Instructors – New PADI OW Course day, you'll be surprised at how often we all follow well worn ineffective teaching methods without much thought to how people learn. On this day, you'll find out how people's learning styles have changed over the last few years, and how the best instructors in the world are adapting to make their courses more fun, exciting and effective.
How much does it cost, Where will I need to go? and What will I learn?
TheUpdate for Instructors – New PADI OW Course cost is £50 for the day. It is open to anyone who wishes to be involved in teaching the new course. PADI Members, Divemaster Trainees even Rescue Divers who want to progress to professional level. It will be held in St. Neots Cambridgeshire on Sunday the 11th January. The biggest thing that you'll learn on these seminars is how to make real effective use of pool time. You'll understand how your students can truly learn to be Independent. The New PADI Open Water Course has "mini dives" built into the program, so you'll find out how you can make time for your students to improve during this vital stage of their development. PADI have produced new materials for this course. You'll get to see how to effectively use the new slates, and how your students will gain confidence quickly.