"Distance Learning – It's personal and it's for the learner."


– David, Canada
"Distance Learning? It's a No Brainer!"
This is just one of the many comments that I've heard!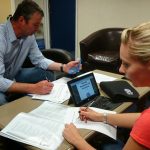 Your PADI IDC will certainly be the most important diving course that you'll ever take in your life.  It's about finding out how people learn, and how you can coach people to be the best that they can. It's not about passing an exam!
It's of paramount importance that you are fully prepared.
With our Distance Learning Preparation course you can be confident that you'll be learning the precise topics in both theory and standards.
You can prepare for your PADI IDC in the comfort and security of your own home.
You can relax while learning from your mistakes and discover exactly what is necessary for you to succeed.
You'll have a very experienced Platinum Course Director only an email away from you giving reassurance and positive coaching.
The Distance Course covers both dive theory and standards.
Once the Distance Learning course has been completed, only confidence and reassurance remain.
A No Brainer indeed!